The Probation Board for Northern Ireland is a Non-Departmental Public Body sponsored by the Department of Justice. Probation supervises people given community based sentences by the courts.
Probation's aim is to rehabilitate, reintegrate and reduce re-offending, by changing lives for safer communities. To do this Probation works 
 A Probation Officer engages with a service user for the first time when the service user has been found guilty of a criminal offence by court. There is an initial meeting so that the Probation Officer can begin the process of writing a Pre-Sentence Report for the Court. This means Probation will collect information on the Service User which is kept securely. If you are a Service user you will be given a Privacy Notice and you can also submit a request about information Probation has about you.  
The Judge will use the Pre-Sentence Report, along with any other report requested from Probation or other agencies, to decide upon the sentence. The Judge will then make a decision on whether to impose a Community Sentence or a Custodial Sentence. 
Probation directly supervises Community Sentences and also works within a custodial setting to help in the rehabilitation and reintegration of the Service User.
Read more about Probation's work in supervising Community Sentences and read more about Probation's work within Prisons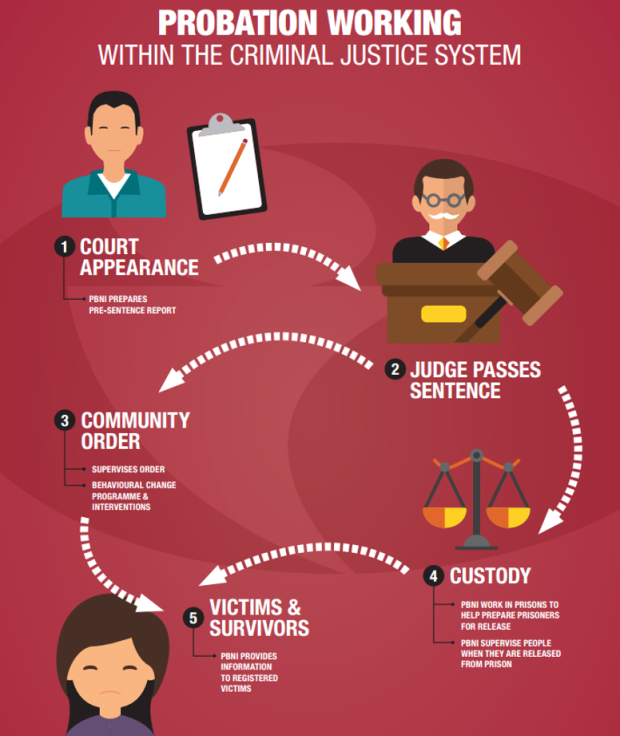 Sentences Supervised by Probation
Probation supervises a number of community based sentences. They range from Probation Orders, to Community Service Orders through to Life Licences.
These sentences are handed down by Judges in a Court of law after Probation has provided a Pre-Sentence Report for the Court to consider. This can be one of a number of documents the Judge may ask for in order to make a sentencing judgement.
The Judge has a number of sentencing options and can include a suspended sentence, a Probation sentence or a custodial sentence.
Read more about the sentences supervised by Probation.
Working with Victims
Probation works with victims of crime to provide those who have registered with one of the three schemes timely and accurate information and communication. These three Schemes are managed by Probation's Victim Information Unit. The purpose of the Unit is to give victims information about the Criminal Justice System and key stages of the sentence of the person who committed the crime in a manner which is accessible, understandable and supportive.
Read More about the Victim Information Scheme
Delivering effective Probation Services
Probation services are delivered in accordance with its Values and Principles. If you feel you have not had an experience in line with these Values and Principles you can make a complaint.