This section is also aimed at the friends and family of people under supervision to give them information which will assist them in helping those subject to probation supervision complete their court order.
Every year we help people change their lives and contribute to safer communities and to help support people on their journey to change their lives and contribute to society, Probation has many different approaches all based on our values and principles.
Probation continues to work on making information as accessible as possible and with more people accessing information online either by computer or mobile devices (phones, tablets, etc), Probation has embraced this using more than just this website by using social media and apps to help provide support and information.
Social Media

Probation has been proactive in using Social Media to explain its work to as wide and audience as possible. You can follow Probation on
You can also see the Probation latest Twitter post on this website's homepage.
Changing Lives App
The aim of the Changing Lives App is to assist service users to desist from crime, by providing them with easily accessible resources to support their rehabilitation. Through the App they can access information on Court Orders and licences, information on Probation, Mental Health, Addiction and other support services. There are tools to assist service users such as the Thought Journal, interactive Mental Health Self-Assessment, Appointments Calendar, Alcohol Tracker, Community Service Tracker and Contact section.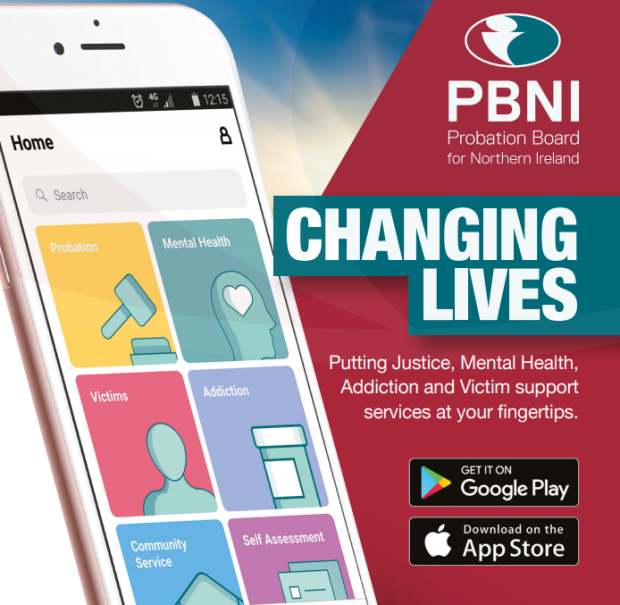 While Changing Lives aimed at service users, anyone can download it and use many of its valuable resources. The app includes is available on both Android and Apple. 
Download the leaflet about downloading the Changing Lives App
Watch the video below about our Changing Lives App. Please note it has no audio information and is purely visual.
 

 

 

One of my Service Users resided within a hostel environment which he was finding extremely difficult. On the evening in question (3am in the morning) he was feeling particularly vulnerable and overwhelmed. He describes experiencing a panic attack stemming from suicidal thoughts. He accessed the App for support and states that the tips, and indeed the distraction of this, allowed him to become more rational and settled until he could access staff the following morning. – Probation Officer
Also keep up to date with our News section